Experiment with food at Culinary Alchemist 
Try new recipes, cook with unusual ingredients or even make play food. Start experimenting now.
Get Started Now
About Us
We are a group of passionate cooks who came together to create a site that would help others find unique and different ways to think about food.  We believe that everyone has their own culinary style, and we want to help you find yours.
We support science and experimenting in the same fashion that a scientist would conduct a test.  Through precise experimentation, we can discover new ways to make things better.
What do our students say?
John Miller
The best among the bests. I started learning cooking with video courses and believe me, it is a very effective approach. They offer a clear teaching plan and the result is obvious.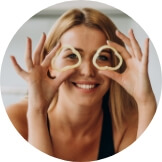 Mary Wilson
Almost everything you need to start. The course content was amazing! I am very happy about the way the chef is explaining things. Very very informative.
Arthur Smith
I am into hobby home cooking. Have completed this course. This is the best course. I exactly tried a few recipes by making master gravy. Turns out very delicious.